Calling all couples!
The couples of St. Catherine's are invited to take a break from the everyday and join other couples for an evening of feasting and fellowship.  We meet at a local restaurant or at the home of a parishioner who volunteers to host.  If you are already a regular, we look forward to seeing you again!  If you will be joining us for the first time then we hope you'll join us and take a chance on falling in love with a great community of people!
We usually start at 6:30 PM and try to wrap up before 9:30 PM.  Complimentary childcare is offered at the church from 6:15 until last pick-up at 9:30 PM. We can't wait to see you!
Do you have questions?
Contact the Couples Ministry coordinator,
Stephanie Vicknair:
Cell:  832.545.2542stephlvick@gmail.com   E-Mail: 
---
Host a CM event

If you would like to open your home as a Couples Ministry event host, just click on the image to the left and you will be taken to the Host Sign-Up page to complete the Hosting Form.  That will let us know which day and time works best for you in your preferred month. You'll be contacted by the coordinator to flesh out the details of your event.
A couple of things to note …
We normally plan to use the last Friday of the month as the preferred date for the events, but sometimes there may be conditions that warrant a different day.  Give us your preferences and the coordinator will help you with any conflicts or concerns about the chosen date.
Couples Night Out events are dinner affairs, so hosting involves being prepared for 10-30 people.  We'd like to ask that you be prepared for the basics in seating, tableware, plates, etc. If that's not an option for you, your event might still be a great option – but PLEASE be sure to spell out what's needed when you complete your Hosting Form.
Some hosts like to assign a theme to the evening and ask guests to bring items (including themselves) with an eye toward completing the theme – Hawaiian Luau? 50's Drive-In Theatre?  Fond Of Fondue?   Some prefer to have a true pot luck and see what happens.  We've done it all so just sign up for (and mastermind) the kind of evening that best suits YOU!!
We'll also ask if you like to be a "full host", providing the main dish or main theme dishes, with guests bringing only sides, appetizers, etc., or if you would like to be a "location only" host and have guests bring all their main courses as well as the sides, appetizers, etc.
It's fun to be a host, so go ahead and take the plunge! And thanks so much for considering being a host couple!! Now .. what month would you like?
---
SAVE THE DATE FOR THE NEXT EVENT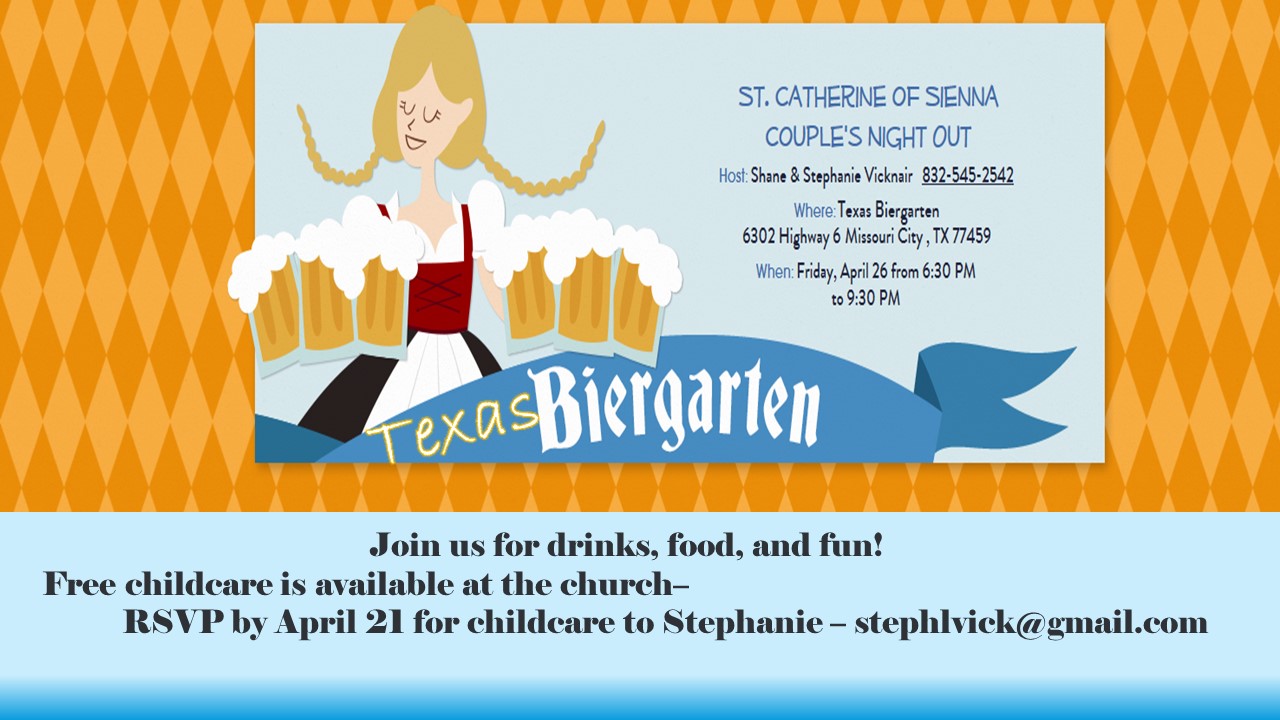 Free childcare is available at the church.  Please have your child fed before or have food with them when they arrive at the church.  
 RSVP  to Stephanie or Shane  stephlvick@gmail.com